Photo Booth in Pop Culture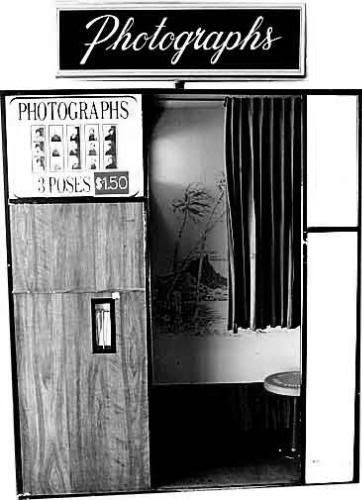 *Photo Booth (pronounced foto-boo-th) is defined as a vending machine or modern kiosk that contains an automated, usually coin-operated, camera and film processor.
Photo Booth to us means a time that many friends and family crowd around one another to take pictures that are meant to be cherished and shared with future generations. At Red Eye Photo Booths we work with each of our customers on a personal level to make sure our photo booth helps make their event the best it can be. From working on your logo to match the event to making sure your rental time gives your guests enough time to use and visit the booth we will work out all the kinks to take stress away from you, the customer.
The idea of a photo booth has been a big part in history not to mention becoming a part of our culture. *The modern concept of photo booth with (later) a curtain originated with Anatol Josepho, who had arrived in the U.S. from Russia in 1923. With the first photo booth appearing 1925 on Broadway in New York City. For 25 cents, the booth took, developed and printed 8 photos, a process taking roughly ten minutes. In the first six months after the booth was erected, it was used by 280,000 people. 
In America you can still find photo booths in malls, outside major department stores, and especially at special events and occasions (our specialty). The new trend that has been developing over the past few years is to have a photo booth at your wedding. This allows guests to enjoy themselves and share them for everyone to see how fun your wedding was. In the UK, Japan, and Germany photo booths are also a big hit being on close to every corner for many to takes photos and be able to share them with people walking by. In these locations they are more focused on a industrial level where in the US are used for entertainment.
Citations: *Wikipedia